If you're a 'purist', in that you turn your nose up to using AI writing tools, you just might be missing out. One of the most rewarding parts of writing content (or not) is rewriting the first draft of an article or blog post. It's also one of the most difficult and can take hours (trust me, I know!) to edit the darn thing!
Look, the creation process is often hard and time-consuming, leaving no room for creativity and inspiration, if you're anything like me, you reach a point where you just don't care, and hit publish without giving your piece that once (or twice) over.
What if you had an editor in your pocket? You can have one with Wordtune, the AI writing tool for all. your content writing needs. Let's delve in!
WORDTUNE: DON'T WRITE WITHOUT IT
With deep AI technology, Wordtune understands context and semantics. It gives you far more capabilities than grammar and writing assistants you're already used to. This nifty but powerful tool helps you express yourself better by offering you clear, compelling, and authentic suggestions to better communicate your ideas. With Wordtune, you can enjoy the writing experience, save time and focus on what matters: your ideas. A writing assistant that understands your words and fine-tunes them without changing your voice. Your words, just clearer.
This post contains affiliate links, to find out more information, please read my disclaimer.
Video Tutorial: How to use Wordtune
What to expect from Wordtune
AI writing tools are nothing new; Grammarly needs no introduction as it's a well-known AI grammar fixing tool that every professional writer uses or has used at least once in their writing career.
Even though Wordtune and Grammarly work differently, they work extremely well together!
While Grammarly will help seek out punctuation or structural errors, Wordtune paraphrases your content, essentially rewriting your text while keeping the same tone and voice.
Let's get take a deeper look into Wordtune, since it's the reason you're here, right?
Main features
Wordtune comes with features that will make your life as a content writer much easier. Let's check out some of the main features of this software:
Mind-blowing rewrites
Wordtune is, without a doubt, the best rewriting tool I've come across. You can create remarkable content without having to spend hours editing. The AI does it for you in seconds!

Length and Formality Controllers: Multiple rewrite options
There are multiple ways of rewriting your text. You can change the tone of your pasted text in a number of ways.
Shorten – perfect for your tweets or if you want to be less verbose.
Expand – flesh out your idea.
Formal – great for work emails.
Casual – make your piece more converational.
See how the same text can be rewritten using the 'Shorten' and 'Expand' options that are available in the premium version:

Suggestions: More than a thesaurus
At first glance, you may consider 'Suggestions' feature to be a simple synonym functionality, but you'd be wrong! Unlike other thesaurus tools, you'll get a suggestion of another word related in meaning to what you're trying to say.
AI21 Labs, the makers of Wordtune, designed proprietary language models based on context and semantics. Without a doubt, this is a feature that differentiates them from other AI writing tools out there.
It's all about context, baby!
Word Finder: When a word is on the 'tip of your tongue'
This brings me on to another nifty feature. Use Word Finder to find the elusive word you're looking for. If it's on the tip of your tongue, it won't be for much longer.
¿Hablas español? Wordtune is multi-lingual
Word Finder works in 9 different languages, which means if English isn't your first language it's about to be! If you can't think of the word in English, but you know it in your native language, Wordtune has you covered. Currently available in:
Spanish
French
Portuguese
German
Russian
Hindi
Chinese (Mandarin)
Hebrew
Arabic
Accessibility
Wordtune is incredibly easy to use. Add the Chrome Extension and you'll be able to use it on all popular sites, such as:
Grammarly
Google Docs
Facebook
Twitter
LinkedIn
Messenger
Whatsapp Web
Outlook Web
Slack Web
…and many more!
The AI tool you're used to using
Is Grammarly Worthy of Your Consideration? - A Grammar Tool Review
What I like about this AI writing tool
Wordtune allows me to keep the same tone of voice.
You have the choice to Shorten or Expand the text to fit your word count.
The Formal option to rewrite your text is great for official business documents.
I like to use the Casual option it's perfect for writing social media posts.
It's super intuitive! Type or paste in your text, click Rewrite, and let the tool perform its magic!
What I'd like to see improved
Web editor – Wordtune has a Playground, but there's no way to save your original text.
Mobile app – I write on the move, so this would help me.
Online platforms – Wordtune is so helpful, I want to use it everywhere, you will too.
GEEK CORNER
Unlike other AI tools Wordtune isn't based on the very popular GPT-3 by OpenAi.
In 2011, Google released a language model called BERT, which uses an AI system to predict hidden words by hiding random word. AI21 Labs enhanced this and built SenseBERT, where the masking isn't random but is weighted toward the parts of the sentence that are likely to convey meaning.
And that's how, unlike other AI writing tools, Wordtune understands the context of what you're writing.
Do I recommend Wordtune?
I highly recommend Wordtune. It's an incredibly smart AI writing tool that needs to be in every content writer's toolkit. It will exponentially increase the efficiency of your writing as it's doing 80% of the work for you.
The importance of a content writer is not reduced because of Wordtune. You will still need to research titles relevant to your piece and make sure your copy is in line with your brand's tone of voice.
Wordtune simplifies your writing process; saving you significant amounts of time.
What others are saying about Wordtune
Overall, all the reviews I've read are positive. The people have spoken (myself included!) Check them out: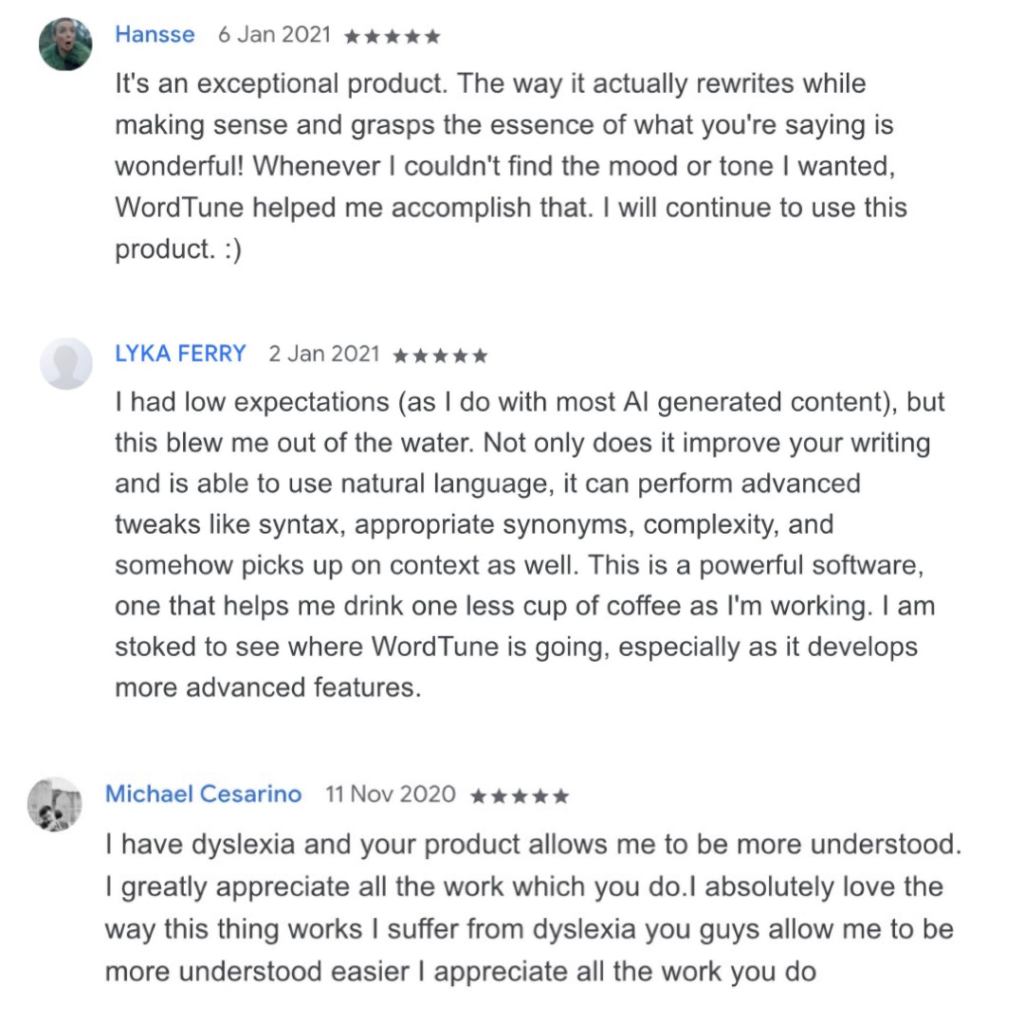 Pricing plans ('Free' is one of them)
Wordtune has a 'Free Forever' plan and you don't need to sign up and log in to use it.
You can sign up for a 7-day free trial to try out their premium plan.
Wordtune is priced at $24.99 a month, but if you get a yearly subscription, it's just $9.99 a month, which is a 60% discount.
Students and educators are eligible for a 50% discount, see: Do you offer discounts for students & educators? for more info.
Final thoughts
If you're a content writer creating blog posts and copy for social media, emails, websites, and such; or if crafting content of any kind is a day-to-day task for you, then you'll find either the free or premium version invaluable.
Wordtune is an amazing and cost-effective AI writing tool that has made the jobs of content writers a whole lot easier.